The Island
The History of the Island
Known as the land of the plenty of Imbrasos, the God of "Abundance in Barren Lands", Imvros appears as the island of the God of the Seas, Poseidon in the Illian of Homer. It is hard to tell when first settlements appeared on the island. It is believed that the island initially had an autonomous administration, before joining Athens around BC 500 and then the Delian League. The island went under Roman and Byzantine rule and was briefly invaded by the Latins before rejoining the Eastern Roman Empire. The island has, in time, attracted the interest of Venetian and Genoese traders with growing commercial presence in the region, who tried to gain control over this strategic spot. The island was taken over by the Ottoman Empire in 1456 and was reorganised under a trust foundation. The island was briefly transferred to the Italian Rule during the Balkan War, the British Rule during the First World War and then Greek Rule. The island became part of the Turkish State on 22 September 1923, under the provisions of the Lausanne Treaty.
The Climate
The island has a maximum and minimum average annual temperature of 20.6 ºC and 12.7 ºC, respectively, with an overall average of 16.3ºC. The island's vegetation is made up of forests, scrubs, and olive groves. Forests cover an area of 28.452 hectares, and make up 24.15% of the island's rural landscape. The island has a Mediterranean climate, with prevailing winds from teh North and the North East. The Southwestern winds (Lodos) and the Northeastern winds (Poyraz) blow throughout the year. Average annual rainfall is around 791.5 mm and the average annual humidity is around 68.5%
What to do on the island?
The island is renowned as one of the best spots for wind and kite-surfing in Europe thanks to year-round winds and its relatively calm sea.
Turkey's largest under-water national park, which starts from Yıldız Koyu near Kaleköy (Kastro) is a main attraction for scuba-divers.
Many people, primarily from Turkey and Greece flock to the island around 15 August every year to attend festivities organised around The Day of the Dormition of the Virgin.
Opportunities for hunting on the other hand, attract visitors especially from Italy and Turkey and make up a lesser known characteristic of the island.
The island offers trekking opportunities with its virgin beaches and lush forests, and stands out with its unique cultural landscape shaped by Greek and Turkish influence. It is a prime location for those seeking tranquility.
You may find information on places to visit on the island using this link.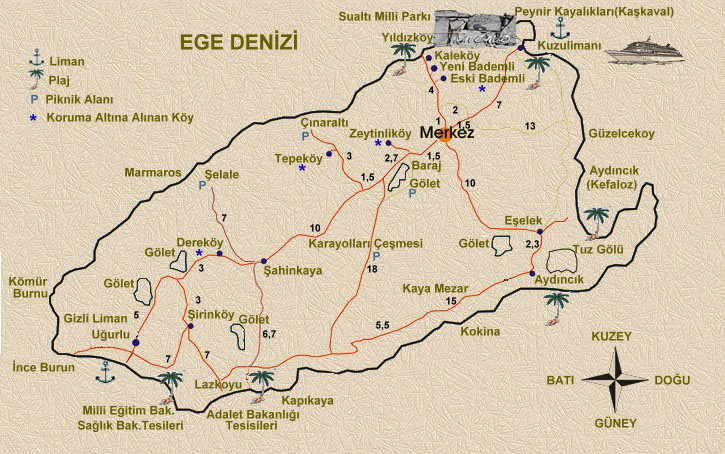 &nbsp